Custom Skincare Gift Card
$25
Gifting without the Guesswork
Few things are as universally loved as a skincare gift set. This year, with more time indoors and our complexions out of whack, it's the perfect time to treat friends and family to a self-care set. But why settle for the one-size-fits all kits? As we all know: the best gift is one that's personal.
Why they'll love it
Breakouts? Wrinkles? Dry Skin? Sensitivity? All of the above? We've got you. A Kura gift card means that you don't have to guess at their skin type or what products they'll like. That's because every product is fully customized for their skin only. Best of all, you never have to worry about quality—we only carry clean, non-toxic, cruelty-free products from the most trusted brands. 
It's all you'll need for a stress-free gift and everything they'll need to get glowing.  
Made for their skin only
We'll analyze over 1,000,000 potential skincare routine combinations and identify the best match for your giftee's unique characteristics, goals, climate, sensitivities and budget. What they'll be matched with is skincare that's custom curated for their individuals needs. 
To get their best match, the gift card holder takes the Skin Quiz and applies their gift code at checkout. 
More than just products
Every gift ships with a step-by-step, personalized instructions card that shares a little more about their best products and how and when to use them. 
If they choose to apply their gift to a curated skincare routine (our special sauce), their complete regimen will arrive with a Skin 101 guide that has all the best practices and info they need to take care of their skin—no preexisting skin savviness needed. Everything will be neatly packaged in our signature box, which has their name hand-written on the inside.
That's how we make skin care gifting personal.

Digital gift cards can be applied to any non-subscription curated routines (sent "Just once") and any individual product purchases. 
There are no additional processing fees.
Digital Gift Cards will be delivered via email to the buyer immediately after purchase with instructions on how to redeem the gift amount at checkout.
Gift Cards are final sale and excluded from any sales or discounts. 
Customer Reviews
01/18/2021
Camilo B.

United States
The best holiday gift in town
I was so happy to share my own Kura experience with my close colleagues this holiday. Instead of just giving an impersonal gift, the Kura team added that personal touch end-to-end. The Kura team communicated with me every step of the way to make it absolutely personalized. This wasn't just a gift card purchase, it was a Kura personalized welcome. And now my colleagues have that same Kura glow. I could not be more happy. HIGHLY RECOMMEND!
11/27/2020
Kate W.

United States
Great service
My daughter chose one of the routines with this gift card. She has dry, sensitive skin that flares up with most new products, but she's been really happy with everything she received and has particularly liked the moisturizer. I can see that the products are high quality and some of the products are packaged in glass bottles, which I also like. The products arrived with instructions with her name on it and a skincare guide, so it looked like a nice gift on arrival. Very impressed with the service!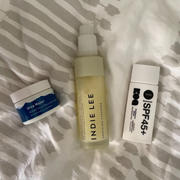 11/11/2020
Matt L.

United States
Easy and effective
I gifted my wife something nice for our anniversary. She had been looking to try new products that were also clean, and the personalization of this worked given she has a particular set of concerns that I didn't know how to shop for. Experience was easy, wife is happy, 10/10 would do it again