Personalized Routine
$99
Skin care is hard. It's hard because Google returns millions of results, because what worked for your friend won't necessarily work for you, because there's always a new "miracle" ingredient that "actually works," and because one product can't do it all—you need the right routine.
That's where we come in. We use your profile to analyze over 1,000,000 potential skincare routine combinations and identify the best match for your unique characteristics, goals, climate and sensitivities and budget. 
Your custom curation is not what's pictured here. This is just a sample. What you'll receive is a routine that's been tailored to your individuals needs. 
What we offer is the easiest way to take care of your skin—no analysis paralysis or guesswork required. 
Our routines always include the skincare essentials. Those non-negotiables include cleanser, moisturizer and SPF. If you choose a Basic curation your routine will focus on those core products. But if you choose any other routine we'll have more budget to apply towards something extra, like a serum, mask or eye cream that can help skin that's thirsty, stressed, off-balance or generally in need of some TLC. 
But it's not just what you have, it's how you use it. That's why your end-to-end routine ships with a step-by-step, personalized instructions card that shares why each product aligns with your Skin Profile and how and when to use it. Your first shipment also comes with a Skin 101 guide that has all the best practices and info you need to take care of your skin—no preexisting skin savviness needed. 
What's not inside: petrochemicals, SLS, SLES, parabens, mineral oil or synthetic fragrance. Only the good stuff. 
Our seasonal routines are really special, if we do say so ourselves. They're totally unique because what you get is not the same curation over and over. Instead, what you get is a skincare consultant who's always in your corner and curations that are always getting better.
Here's how it works: before each new shipment we'll send a feedback form that helps us understand what you liked and what products need replenishing. If you didn't like a specific product you won't get it again, and let's say you have enough cleanser—we'll skip it in that shipment and apply the budget to something else that's well-matched for your Skin Profile. That's how we help make sure that you always have what you need and love what you have.
But if you ever find that you don't need anything restocked, you can always push out your shipment. Easy peasy. 
Customer Reviews
11/20/2020
Ji-Young J.
United States
Highly recommend!!
With the changing of the seasons, my skin had been pretty dry lately. I'm so glad I tried Kura skin, because their routine really helped rebalance my skin. They say that their products are clean and my skin can tell the difference! I also loved the easy the process was - all I had to do was answer a few questions and a few days later, a full skin care routine showed up on my doorstep. Recommending this to all my girl friends!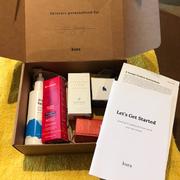 11/15/2020
Michelle K.
United States
Super helpful service
I was spending so much time trying to find a clean skincare routine that would be effective, and I'm so glad I came across Kura. I'm love with some but not all of the products I was sent, but I feel good knowing that everything I'm putting on my skin is safe. I'm excited to see what comes next. Also, great response times when I had questions
11/10/2020
Emily L.
United States
Great First Try
I enjoyed trying new brand and so far I like everything. However, the moisturizer wasn't quite hydrating enough for me. I can't wait to see what kura will recommend to replace it!
10/26/2020
Brianne H.
United States
Loving it so Far!
I've been on the hunt for a skincare regimen I can get behind. I knew I wanted something curated for me and my skin type after spending weeks trying to find the perfect products and still feeling lost as to what to get. I also really wanted products that were mindful of the environment and healthy for my body. I decided to go for the middle routine because I'm super low maintenance and was afraid if my routine was too involved I wouldn't stick with it. There are definitely a lot of steps, but the instructions and details that come with the products were super helpful and have set me up with a good routine that's easy to follow. I like the products so far and they've been good on my skin. It's only been a couple-ish weeks and I know it's supposed to take a full month to see real results, but so far I haven't noticed any drastic changes in my skin.
10/08/2020
Sam S.
US
Great service
I've been pleasantly surprised. I didn't know how personal this personalized routine would be but my skin is less oily, my pores are smaller, and my skin is really clear and soft. I had a question about how to use one of my products and the team got back to me in like 2 minutes. I'm really impressed with this service so far and I've really liked my products.
10/07/2020
Kara L.
US
Kura is really working for
Kura is really working for me. I like how they only use clean skincare and the products adapt to you. I live in a place that gets really humid in the summer and all my products were really lightweight. My second box arrived and it had a a new serum for fall. Would definitely recommend.
10/07/2020
Megan R.
US
I've received three curations from
I've ordered three curations from Kura and all of them have been great. My favorite part is that you get to try so many new things that all work really well for your skin. They'll send you a feedback form and you rate the products and tell them that your skin is feeling and anything else that's important, and then your next shipment takes all that into account.I really love it and I'm excited to see what I get next!
09/26/2020
Julie A.
US
The packaging the items were
The packaging the items were shipped in was cute. It was like opening a birthday surprise. I love the skincare products and routine that was curated for me.
09/08/2020
Aaron P.
US
I admittedly don't like routines
I admittedly don't like routines because I find them hard to follow in my crazy lifestyle. Kura offered me a simple plan to keep my skin looking great and I've gotten many compliments on my skin within the first week!
08/27/2020
Emma S.
US
I absolutely love my curated
I absolutely love my curated routine from Kura! I've been using my products for a few weeks now and my skin already feels (and looks) so much better. Ordering a routine from Kura is way easier than trying to figure out how to take care of my skin on my own. The fact that all of the products included in the box are clean/non-toxic is a huge plus as well! I am absolutely loving Kura and all they have to offer.